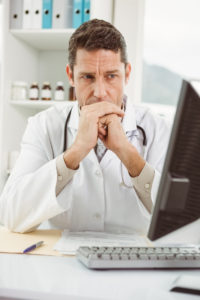 With insurance reimbursements declining and the portion of each visit attributed to "Patient Responsibility" increasing, collecting every penny owed to your practice is more important than ever.
If you spend more time bogged down in paperwork than with your patients, it's time to let JBS show you how we can help. Whether you have your own in-house billing team, or you choose to outsource your billing, we can help you spend less time worrying about changing regulations and insurance companies so you can spend more time focused on your patients.
As a Medisoft Value Added Reseller, we can provide you with software solutions to streamline your practice and increase the effectiveness and efficiency of your revenue cycle management process.  
In addition to providing you with Medisoft software solutions, we are also a full-service billing company and can offer you all of the benefits of an in-house billing solution without the hassles of managing staff, keeping up with changing regulations, and chasing insurance companies and patients for payments. Click here to find out more about our Medical Billing Services. 
For more information on Medisoft or our billing services, click here or call 407-869-7737 or 866-455-0623.